Working from home is the fantasy of most of the employees. You can finally get rid of the stress of travelling to and from work during peak hours. Working remotely This setup also gives you the freedom that usually doesn't exist within an office and allows you to get rid of the dress code for good. You will have more time for personal care, family, and other hobbies without the guilt of being unproductive at home.
The list of benefits of working remotely goes on, but it is not without its challenges. Moving to a work-from-home environment can be difficult when you've worked in an office environment all your life.
If your company has recently adjusted to the new normal or you are planning to join a distributed team, the right way to start your journey as a remote worker using the following practical methods:
Invest In Essential Equipment
If your employer provides you with the tools and equipment you need to do your job, you are really in luck. Otherwise, you must have the resources to create your workspace. You should invest in a decent computer or laptop and high-speed internet as these are your primary resources.
A reliable desktop or laptop is crucial. Working in a remote environment means working and communicating online most of the time via email and fax. So you need to subscribe to the right software and services.You're in luck, there are full service cloud faxing solutions that not only eliminate paper, moving everything to digital, but it keeps your faxes private and secure. This is an important benefit when transferring any data online. Cloud services like mFax make this step easy and affordable. You can even use your email as a fax machine with these services.
Consider using a webcam for your video sessions, noise-canceling headphones, and speakers when meeting online. Building a remote office can be done at a relatively low cost by using a voice over IP phone system, and it's worth it once you see the long-term benefits.
Map Out A Workflow And Stick To It
Some employers allow you to choose your working hours as long as you meet the deadline and get high-quality results. It might sound tempting to hang around until you're in the right place to do the right job, but it could become a habit that ruins your work speed and productivity in the long run.
You need to find your "golden hour" or window of time within the day when you are most productive. Some people start early in the morning, others late at night. The choice is yours as long as you commit to it every day.
If you have problems procrastinating, try the "Eat Frogs" method. The "frog" is the most important item on your to-do list. This method forces you to identify this task and perform it first. The idea is to get the most challenging task done right away so you can start on a positive note and hopefully get it done for the rest of the day. Once you have conquered the "frog," it is easier for you to work on smaller tasks.
Be Proactive In Staying Connected
The biggest challenge for remote teams is communication and collaboration in a virtual environment. There are many ways employers can effectively manage remote computers, but employees also need to do their part of the job. This can be as modest as using the communication and project management tools your team is using. You can quickly provide updates on your tasks, report your progress, ask questions, or get in touch with your staff.
Don't wait for your manager or teammates to contact you first if you have something to say. At a similar time, let them know how and when they can reach you if necessary. Always make sure you are visible when you are working and encourage your teammates to do the same. This is useful if your team works in various locations and in different time zones. This will reduce the likelihood of communication errors that could affect the overall productivity of your team.
Find Your Comfort Zone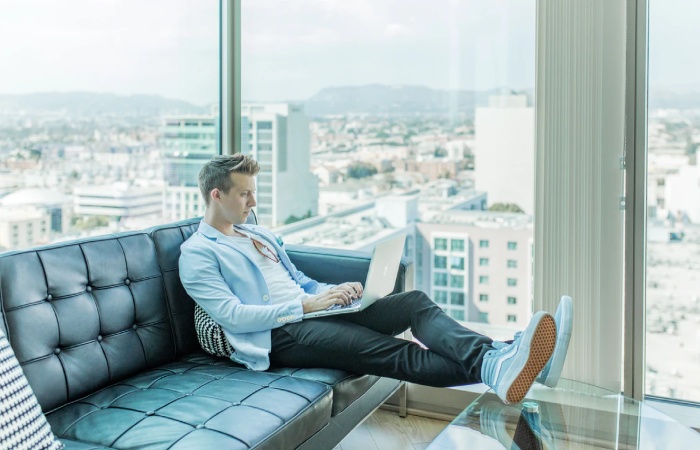 Up until a year ago, you might have thought of work areas as war zones. Now there has been a blast of memes about working in pyjamas rather than showering, and everyone finds them funny because they can relate to them. Working remotely allows you to put comfort above all else. This does not mean to be lazy, but only to give ergonomics a high priority.
Not only can you invest in a comfortable desk and chair, but you can also create an environment that is beneficial to your production. Does Listening to Music Help You Meditate Better? Or do you prefer absolute silence? Do you like to work in a bright, well-lit room? Or do you find it easier to concentrate in the dark?
Find out what works for you and build your workspace on it. To keep things exciting, it can be good to experiment or change things from time to time. Instead of staying at home, try to work in a coffee shop or standard room. However, you must follow all safety protocols when planning to work outdoors.
Don't Forget To Relax
Being at work doesn't mean you can't relax and have fun. You can start a virtual water cooler if your team doesn't already have one. This is a peaceful place for you to talk about non-work related things, such as how employees gather around a water cooler in the office during the break. You can create a dedicated thread in your team's messaging tool, or you can create a separate group for more in-depth discussions. Building strong bonds between employees is difficult enough when they are not physically together, and this is an easy way to fill that gap.
It would be superlative if you also were careful about how you are managing your time. When you work at home, the line among work and life becomes blurred. Once you check email outside of your business hours, these can become difficult to resolve. For this reason, it is vital to disconnect if necessary completely. Log out when you are done, even if you feel that you can take advantage of your increased productivity. Working from home may not be as stressful as working locally, but it can still be overwhelming if you don't decompress.
Making The Big Switch
Moving to a working remotely environment is easier than it sounds. The most important thing is to know yourself – your work ethic, adaptability, and self-discipline. Preparing yourself with the right tools and making significant adjustments can shorten your learning curve in dealing with this new reality.
Also Read: 7 Important Skills Needed to Become a Business Analyst