Call Center Agents: Science-fiction movies have long been exploring the idea of artificial intelligence (AI) taking over the world and eradicating humans in the process. Although it is a hypothetical situation, AI is rapidly changing various business sectors like healthcare, finance, retail, construction, and educational institutions.
Call center jobs, too, are no strangers to technological advancements. Artificial intelligence in call centers has its own set of advantages and disadvantages. Read on to find how AI can't replace the human element, but it can positively revolutionize the call center work model when used wisely.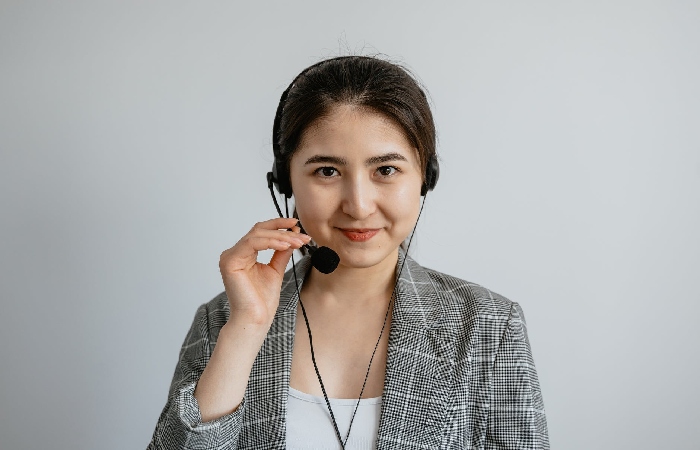 What are Call Center Companies All About?
According to recent statistics, in 2020, around 138 call centers were opened or expanded in the United States. The state with the maximum number of call center employees in the US was Texas, with over 288,200 employees.
A call center is a specific department or an organization that provides customer support services for various business sectors. The basic working process consists of:
Inbound calls
These include:
Inquiries from customers
Calls for technical support and troubleshooting of new products and services.
Payment inquiries
Billing questions
Complaints
Outbound Calls
These include:
Sales and promotions
Market surveys
Customer feedback and suggestions
Benefits of AI in Call Centers
While some organizations treat AI as a magic tool that can do anything, it is important to recognize the limitations of these tools. Some call center employees do not have the required knowledge of leveraging the technology to improve the business processes and customer experiences.
Here are a few benefits of using artificial intelligence in call centers to make them more efficient and increase performance.
Automated Real-time Operations
A customer service representative will have a myriad of tasks in hand, but the priority will be handling the issues of the current online customer.
AI can help in automating the routine tasks of the customer support team. For example, voice biometrics can help in instant voice recognition of a customer. It helps automate the identification process and solve customer queries faster.
Automated technology can also help in speeding up the workflow, like sending emails and notifications to customers.
Self-Servicing Options and Query Response
Automated response for queries gives customers required information without human intervention. It also reduces delays and waiting times for valuable customers. A good example of self-service is IVRS (interactive voice response service) that uses pre-recorded audio and speech recognition tools to help online consumers.
Chatbots are the most trending AI application in the customer service department. Chatbots use National Language Processing (NPL) tools and algorithms to interact with customers. AI also uses analytics to convert real-time phone conversations to text. It helps track and monitor customer needs and feedback.
The Downside of AI in Call Center Platforms
Although AI in call centers is a cost- and time-effective option, it will never undermine the role of humans in providing efficient customer service platforms. If you are considering integrating automated AI programs with your existing customer support system, read on to find the potential disadvantages too.
AI-integrated Systems are Expensive
It is a fact that technology can reduce training and business production costs. But, implementing and maintaining artificial intelligence-driven customer support tools is expensive.
It requires a specialized skill set and resources to handle complex technological tools. You may have to bear the extra expenses of hiring third-party services to handle troubleshooting and other technical issues.
Loss of Human Touch
Machines lack emotions and feelings. They are not creative and adaptable to the needs of individual customers. Although artificial intelligence has developed machine-learning capabilities, they can only analyze in terms of pre-fed or past information.
A machine is not capable of catering to specific questions and problems of customers. A trained customer service executive can listen to their issues patiently and talk to them in the right tone and manner. It is always comforting to hear a human voice to help you in difficult, helpless situations. Hence, call center jobs are widely in demand.
Lack of Immediate Response
Robots and chatbots are incapable of answering unexpected questions and issues that are not pre-programmed in the system. A trained customer support team can effectively handle difficult and complex queries and give a suitable, simple answer to the end-users.
Loss of Employment
More and more organizations are attracted by technological advancements to automate business processes. What many do not realize is that AI can kill employment opportunities in the future. The thought paints a scary picture due to unemployment.
Conclusion
Humans are the only intelligent species with the right decision-making and judgmental skills. Misuse of AI can lead to the mass destruction of natural resources. Hence, an outsourced contact center platform using automated technology under human surveillance is the best option.
Related pages:
call center jobs
call center
call center jobs near me
remote call center jobs
call center remote jobs
work from home call center jobs
amazon call center
call center work from home jobs
call center services