Running a successful outbound call campaign is like playing a strategic game. You have to know the rules first in order to win the game. Otherwise, you'll keep using the same tactics and strategies that are making you lose.
Launching an outbound call campaign is one of the most challenging sales and marketing techniques to perfect. There'll be many factors to consider in order to make it succeed, but, at the end of the day, it all depends on a well-crafted and well-developed strategy.
However, many people argue that outbound calls are already dead. Is that so?  Well, the answer is no. In fact, many companies rely on this sales strategy to qualify leads and convert them into high-paying loyal clients. This is why developing and strategizing your outbound call campaigns is a must. After all, no one wants to enter a battlefield without enough supply of ammunition.
If you have no idea where to begin, here's a comprehensive guide that'll help you launch a successful outbound call campaign. This includes some of the most effective strategies, such as using an auto dialer, writing a sales script, and more, so keep scrolling to learn more.
Use An Auto Dialer
As the name implies, an auto dialer is an outbound call solution developed by companies such as Auto Dialer to eliminate the tedious task of manually dialing contacts. Instead, it automatically dials phone numbers based on the contact list you provided. This helps sales agents be more productive, allowing them to make more calls than before.
An auto dialer often comes in three types: preview, power, and predictive dialer.
As the name implies, a preview dialer provides sales agents a 'preview' that contains important information regarding the contact prior to dialing. With this, sales agents will have more time to prepare for the conversation.
For example, if your sales rep plans to call to address an issue regarding a client's hotel booking, it'd be helpful to check the client's history before making a call.
However, preview dialers often lead to unsuccessful calls due to busy signals and disconnected lines, which may damage your agent's motivation to make calls.
A power dialer functions differently compared to preview dialers. It doesn't provide any information you can use to prepare for a call. Instead, it automatically connects answered calls to an available sales agent.
In addition, this software solution, like the one offered by companies such as Power Dialer, instantly dials a new set of numbers once a call is completed. Also, when the other end of the line is busy or disconnected, the next contact will be called instantly, perfect for companies that value quantity over quality calls.
On top of that, unwanted calls will be detected and won't be processed. This way, time won't be wasted on invalid numbers, disconnected lines, busy phone lines, and voicemail drops.
A predictive dialer is an advanced auto dialing solution that uses algorithms to predict the time it takes to answer a call and how many dials an agent needs to perform. In addition, it calculates the number of dials to ensure that all sales reps have shorter idle time between calls.
For example, if an average call lasts 70 seconds and the average time it takes for someone to answer a call is 15 seconds, the predictive dialer will begin dialing the next number on the list at 55 seconds.
However, since most agents are on the line, there might be no agent to answer an incoming call, leading to a dropped call.
Define Your Goals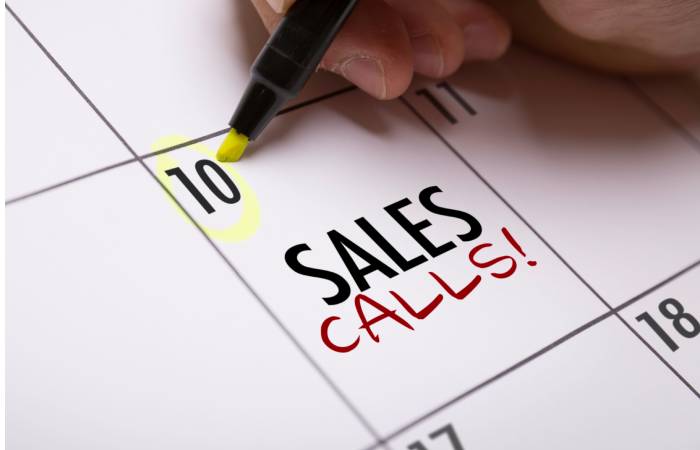 To launch an outbound call campaign, the first thing you need to do is establish a well-defined and strategic plan. Of course, this may change throughout the process of growing your business. But, to have successful calls, you need to determine what you want to achieve.
So, what is it that you're trying to achieve?
Do you want to schedule more appointments?
Do you want to increase the number of people who are aware of your products and services?
Do you want to sell or promote your products and services?
Do you want your products to address the pain points or concerns of many people?
Do you want to conduct surveys to understand the needs of your target consumers?
Do you want to generate more leads?
These are the questions you need to answer to identify your goals. Then, you'll be able to establish the right strategies to achieve them. For example, if you want to schedule more appointments per day, one of the tactics you need to include is using a predictive dialer to maximize the time and set more appointments every day.
Establish Your KPIs
The main role of key performance indicators (KPIs) is to help you measure the effectiveness of your outbound call campaigns. Also, you don't have to check every aspect of your campaign. But, instead, concentrate on monitoring the most critical ones, such as:
Occupancy Rate: This refers to how much time is spent on every call. A low rate means that an agent has difficulties performing the call.
Conversion Rate: This refers to the number of sales generated against the number of calls made. A low conversion rate means you need to make some improvements to your outbound call strategy.
Average Handle Time: This refers to the length of all calls against the total number of calls. A longer average time would mean an agent lacks sufficient closing skills or knowledge about the product or service they're trying to sell or promote.
First Call Close: As the name implies, the first call close refers to the number of deals closed on the first call against the total number of calls. A higher rate means your agents are working efficiently and making calls effectively.
Cost Per Acquisition: This refers to the expenses required to acquire a single customer. Of course, higher costs would mean your agents aren't performing well.
Idle Time: This is the free time between each call and usually depends on the time it takes to answer a call. If you have a longer idle time, your agents aren't using their time wisely, resulting in fewer calls per day and low sales.
Write An Effective Sales Script
Making outbound calls often leads to stress, especially when people often hang up your calls. However, using sales scripts may take all the anxieties away.
Sales scripts are written dialogues used when interacting with prospects. Their main goal is to help sales agents avoid mistakes while making sure all the necessary information is delivered appropriately.
However, having a script doesn't guarantee success. Sometimes, it's the reason why your campaigns are struggling. If that's the case, here are some tips for writing a near-perfect and effective sales script:
Focus On A Single Product: Selling every product and service at the same time is impossible. Instead, choose only one product or service you'd want to sell ultimately and make this your focal point. Doing this will help you become more confident and expert in what you're trying to sell.
Know Your Target Audience: This will help you ask questions that suit your prospects' preferences and understand their pain points better.
Develop Your Benefits: Discuss the benefits your prospects may receive from the products you're trying to sell. These offerings should provide a clear solution to your client's problems.
Link Benefits To Pain Points: When you discuss your benefits, make sure to connect them to the pain points your clients want to address. This will make your prospects feel more valued, and they'll appreciate the help you want to offer, increasing your chances of closing a sale.
Ask Questions About Their Concerns: Asking thoughtful questions shows your sincere interest in helping your clients address their concerns.
Engage The Client
Some clients prefer unscripted conversation because they sound more natural and human. Also, it makes them feel appreciated and valued as people rather than being viewed as simply prospects. In fact, this is the secret factor of a successful outbound call campaign—it engages potential clients at the beginning of the call.
You may start by raising a neutral yet optimistic topic. But, try to avoid being bland and unimaginative, and, if possible, make your script tailor-fit to your prospects' needs and interests.
However, make sure to prepare before you reach out to your potential customers. You may check their social media accounts to determine their interests and possible pain points. With the information you gathered about them, you'll be able to plan a call tailored to their needs.
But, then, don't act as if you know everything about them. Remember, you have to be sincere if you want your calls to be effective.
Call At The Right Time
When it comes to outbound call campaigns, time is of the essence. That's why it's important to have an idea when to call and when not to call your prospects. Knowing these will help you improve your calls and have more chances of making sales.
Here are the things you need to know:
Best Day For Outbound Calls
According to experts, the best day to make outbound calls is Wednesday and Thursday. This makes sense because people are preparing to leave work for the weekend on Friday. On top of that, it's also not a good idea to call your prospects on Monday. Why?  Because they might still be having difficulties going to work after the weekend.
The Best Time In The Afternoon To Make Calls
When making afternoon calls, experts believe the right time is between 4 and 5 pm. It makes sense because people are preparing themselves to go home. And, they probably won't start a new task at this point, making them more available to take your calls.
Best Time In The Morning To Make Calls
Making early morning calls makes sense because you're trying to connect with your prospects before their priorities pile up. However, is it really the perfect time to call someone?
The best time to call your prospects is during brunch (10 am to 11 am). During this period, people wrap up their tasks before having lunch. This makes them more available to answer and take calls.
The Worst Time To Make Calls
Don't make calls between 7 am and 10 am. Why?  They might be driving off to work, and since many employees are now working remotely, they might start their work at a later time than usual
Following up on your prospects is important, but the question is: when?  Well, don't think twice, and call them immediately once they establish contact with your company.
Run A/B Tests
A/B testing or split testing is an effective way to determine the effectiveness of your outbound call campaigns. However, there's no way you can run actual tests during your calls. What you can do instead is run the campaign on other associated channels, such as emails, SMS, and ads.
After that, you'll be able to identify which aspects or parts of your campaigns need to be adjusted or improved. Then, make the necessary improvements and run another set of tests until you get the result you want to achieve.
Track The Performance Of Your Outbound Call Campaigns
Now is the right time to review the KPIs you established earlier. Check the metrics of your sales agents and see if they're working based on the standards you set before them. Are they closing fewer deals than before?  Is the average call length longer than usual?
If they fail to meet your expectations and are unable to work productively, you may consider training them to improve their skills. Make sure to provide all the materials they need, from brochures to different tools, to help them work effectively.
Also, help them understand the proper etiquette of making outbound calls to clear out some confusion about the nature of your business. And, make sure to monitor how they interact with their prospects.
Final Words
Launching a successful outbound call campaign isn't an easy task. But, with the help of the right tools and well-devised plans, you'll see great results in no time. Remember, no efforts will be wasted with a well-crafted outbound call campaign strategy. Furthermore, be sure to follow the strategies discussed above for a more productive outbound calling experience.