What is a Biometric Identification?
Artificial intelligence and machine learning led to security problems and biometric identification.
Biometric identification is used to identify people using unique facial features. However, it can also include the handwriting of a signature, voice, or feature that cannot copy.
It is an ever-evolving technology that online marketing is beginning to leverage to expand e-commerce. Tech companies were early adopters, and discovered the potential of the technology. The use cases have expanded as far as l law firms lik Fair Credit. The security benefits and ease of use has made its adoption surprisingly easy. Hence, they appreciate implementing this type of technology to make payments, personal access accounts, or perform actions that process sensitive Personal Information.
Types of Biometric Identification Data
Biometric identification is a technology that is still developing because its use is not yet widespread. However, so far, it has been known that several types of data can be used to identify a person using this technology:
Physical and Physiological Characteristics:
This group would include recognition by fingerprints, facial features, the iris, the hand's geometry, the retina, and the vessel.
Behavioural and Personality Characteristics:
We would include a signature, type of writing (traditional or keyboard), voice or movement when walking.
To date, it believed to identify a person through these characteristics. After all, they consider universal, since all people have it without distinction; unique because they are different in each individual; and permanent because they do not vary over time.
Advantages of Biometric Identification
Biometric identification has proven to have numerous advantages:
It's very easy to use: Very basic knowledge is required to use this technology type.
There's no need to remember anything: The user doesn't have to remember passwords or access data.
Accessible to Everyone: Every person has characteristics that make them unique so that anyone can use this type of technology.
More Security: This type of technology has proven to be very difficult to hack because it relies on individuals' unique characteristics.
Can combine with other technologies: Combine biometric identification with other technologies to increase your security, e.g., B. a PIN plus biometric recognition.
Increases privacy: A customer's data which is encrypte with biometric data so that the company has practically no access to it, let alone third parties.
Improves corporate image: The use of new technologies increases a company's efficiency and security and even reduces the likelihood of internal fraud (e.g., when one employee hires another).
With all these advantages, it is clear that biometric technology means a before and after for the user's safety who will perform actions on the network and provide personal data without having to fear that someone else has access or that information available is shared.
Biometric Marketing: What is it?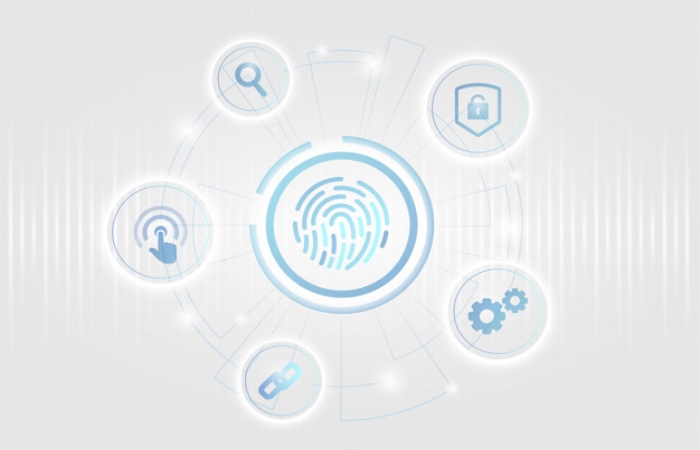 Biometric technology is mainly used for security purposes. But what about biometric marketing? This is the one in charge of analyzing the users' biometric characteristics for a better user experience.
This type of technology has not yet reached a sufficiently advanced stage to be efficient. With biometric data, the customer could understand their tastes and know their feelings after consuming a product. Based on this information, each user's experience could be improved and adjusted to be more positive.
Impact of Biometric Technology on Marketing
Behavioural patterns are the most useful factual information a brand can get. This is precisely where biometrics plays a significant role in future marketing strategies. A brand can know the audience's reaction to a product or service and how it feels when it interacts with the web or the physical space.
All of the Information that biometric technology can provide in marketing can help guide a strategy and lead it to success.
How to Incorporate it Into your Marketing Strategy
This type of technology is not fully developed yet. So it is too early to talk about implementing it in online marketing.
However, several sensors can used within a marketing strategy to measure different users' reactions. This can give you valuable information about what the public wants and how they feel when they receive promotional information.
These sensors can track the eye to see what the user is looking at and what content is visually striking. A sensor can also analyze facial expressions and detect emotions and even measure sweat on the skin and brain activity. With all this information, you can know the level of attention and type of emotion an advertisement, product, or service evokes. Depending on the impact the marketing campaign has on the audience, it could be redirected in the right direction.
We still have years before we can quickly implement biometric technology. Into digital marketing campaigns, but this will help understand the public much better and attract leads and customers.
KNOW MORE:- healthylifees
In addition, you can read more helpful posts at upticktechnology